Hopefully you've all received important information about changes in this year's Sandhills Marathon. I'm sending this from my office as an extra precaution (in case you didn't get the email via RaceSignUp).
Due to flooding, the course has been changed. It's in an entirely different location, 40 miles from the original course. We will start both races at 6:00 am (CDT) in Valentine. Meet at Bolo Beer Co. at 420 E 1st St, Valentine, NE 69201. BOTH races will begin at 6:00 am.
Half Marathoners, I'll repeat once more: Your race begins at 6:00 am.
Attached are modified logistics and a course description with map links.
We're really scrambling to put on an excellent race for you. Your patience and understanding are appreciated. Please do not email me with questions, unless you have friends or family who want to volunteer. I won't have time between now and Friday to respond.
Do everything you can to help us out by arriving in time to pick up your packet Friday. If you absolutely cannot make it or have a friend pick up your packet, it will be available at Bolo Saturday morning before the race.
See you Friday!
P.S. To cool off after the race, please check out Little Outlaw Canoe & Kayak: Sandhills Marathon Special Offers
P.P.S. Or consider more racing – kayak and canoe races on the Niobrara June 8 and 9: Niobrara River Races
Logistics & Calendar of Events
Date & Time Event Place
Friday, June 7
3:00 – 6:00 pm  |  Packet Pick-Up  |  Young's Western Wear, Valentine
5:30 – 7:00 pm  |  Spaghetti Feed  |  Bolo Beer Co., Valentine
Saturday, June 8
6:00 am  |  Full Marathon  |  Start Bolo
6:00 am  |  Half Marathon  |  Start Bolo
10:00 am  |  Awards Presentation  |  Finish Area
Noon  |   All runners off road (Finish Area taken down at Noon)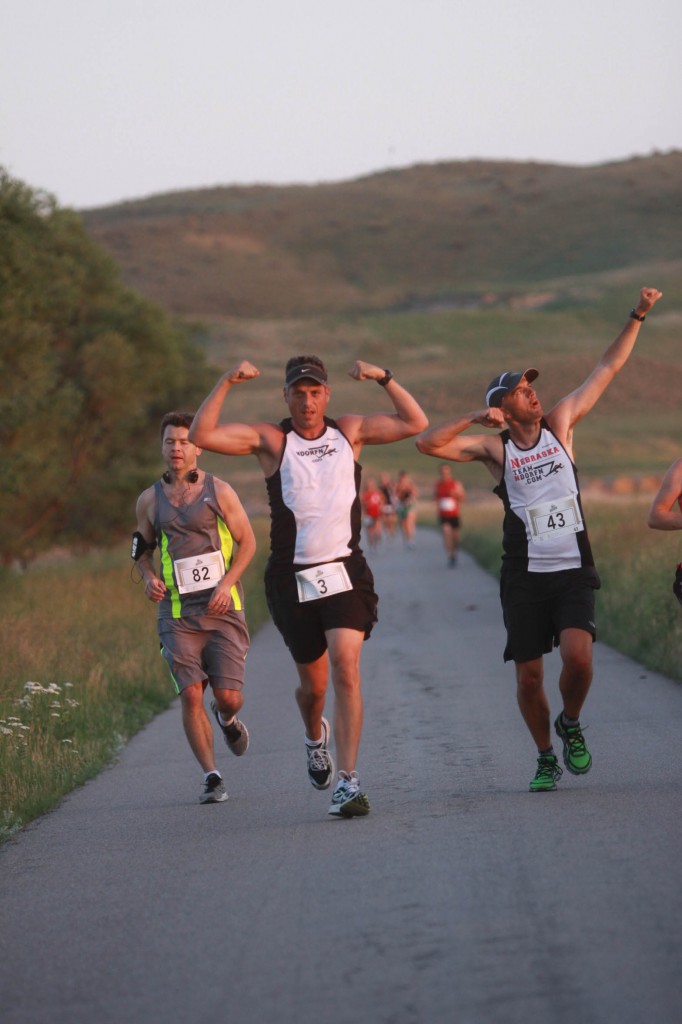 Spaghetti Feed
Free to all registered participants and volunteers.
$10.00 for guests.
Packet Pick-Up
If you cannot pick up your packet Friday evening at Youngs, pick it up in the Finish Area where you board the shuttle for your race.
Shuttle Pick-Up for Both Races
The Shuttle will pick you up at the above times. Be there on time. We can't wait. The Finish Area is at the intersection of Highway 83 and the Brownlee Road, about 40 miles south of Valentine. It's an hour drive. Look for a white building on the west side of Hwy 83.
Belongings
If you want to drop off any clothes, etc. as you start the race, put your belongings in your race bag or other identifiable bag. We'll deliver it to the Finish area.
Aid Stations
Water and Gatorade will be available at Aid Stations about every 3 miles along the course. Gels will be provided at Aid Stations during the latter part of the course. First Aid kits at each station.
Cancellations
Let the race director know if you will not be running. We do not allow you to transfer your registration to another person. Switching from one race to the other is discouraged. Those who switch are not guaranteed a finisher's prize.
Volunteers Needed!
If you are bringing friends or family, please encourage them to help at an Aid Station or the Finish Area. Bicyclists are needed too. Volunteers make this race what it is. And they get a free race t-shirt and spaghetti!
* All times Central Daylight Time
Stay on the road and off the shoulder.  There are rattlesnakes, sand-burrs and cactus on the shoulders and in the ditches.  If you have to step onto the shoulder or into the ditch, watch your step carefully.
Do NOT cross the right-of-way fence under any circumstances.
Watch for snakes on the road.  They may be sunning themselves at that hour of the morning. Do not pick up a snake to see if it is a rattler or a bull snake!
Watch and listen for vehicles.  There will be some traffic on the road.
NO headphones.  This is a one-lane road, and you must be able to hear approaching vehicles.  (In the past we've allowed headphones, but we are not allowing them any longer.)
No strollers. 
No pets
Run on the LEFT side of the road.
Do NOT run more than two across.  The road is windy, and vehicles may be hard to see until the last moment. 
Run single file around blind corners and over hills.
Mile Markers: Each mile will be marked with signs and yellow paint on the road.  Watch for those markers if you are concerned about your split times.  There will not be volunteers at the mile markers calling out splits. 
Water stations: At least every 3 miles.  Most will have attendants, but if you see a cooler beside the road without an attendant, please feel free to stop and open it (though we'll try to keep them open) and grab yourself a cold water or Gatorade. 
Do not pour bottled water on your head!  Other runners will need water too.  We don't have enough for you to use it other than to drink.
SPECTATORS: To protect the safety of our runners and preserve the unique and remote race experience, we strongly discourage spectators from watching on the race course, which requires driving past the runners. If you want to watch the runners on the course, please volunteer for an Aid Station. Otherwise, please watch your friends and family as they finish the Sandhills Marathon.
Bring and wear SUNSCREEN.  Again, there is not much shade!